A journey marked with key religious sites and royal palaces
With international borders still closed, it's the ideal time for a great Malaysian road trip – one that begins right at your doorstep. Or, if you aren't up for quite so much driving and want to start closer to the finish, just take one of Malaysia Airlines' newly reinstated domestic flights to your starting point, and pick up a rental car from there.
This trip takes you along Federal Route 3, one of the most scenic highways in Asia, through to Pekan, the royal seat of the Pahang sultanate. From there, it's an hour's drive to the resort town of Cherating. Along the way, you are rewarded with plenty of interesting sights and delicious grub. (For seven other road trip ideas, click here.)
Total distance: 367km
Suggested duration: 3 days, 2 nights 
Perfect for: Beach bums and culture lovers 
Before you hit the road
Take time out at the beginning of your journey to wander the streets of Kuala Lumpur, where kampung houses, faded colonial buildings stand alongside gleaming high-rises.
When all of the capital city's sights have been explored and delicious street eats have been devoured, get some shuteye before heading back on the road. Eco-conscious travellers will love the Element Kuala Lumpur, which is just one train stop away from the Petronas Twin Towers. Perched within Ilham Tower, the sixth-tallest skyscraper in the capital, the Green Building Index-certified hotel is not only an upscale destination with eco-friendly amenities; it's also committed to sustainability, with green practices such as harvesting rainwater and replacing plastic bottles with in-room water filtration systems. After a little exploring on one of the hotel's bicycles, have a soak in your room's spa-inspired bath – or in the indoor infinity saline pool on the 39th floor, with unbeatable city views. Don't forget to try the Western fusion delicacies at Trace Restaurant & Bar.
For those seeking a trendy, contemporary stay, the conveniently situated and buzzing district of Chow Kit is your best bet. Here, the Hilton Garden Inn Jalan Tuanku Abdul Rahman South's sleek and stylishly furnished rooms overlook the iconic Petronas Twin Tower and are equipped with walk-in showers, a 40-inch television and complimentary WiFi, to boot. Take a dip in the hotel's rooftop infinity pool while admiring the city skyline, before dining on locally sourced food and sipping on handcrafted cocktails at the Rooftop 25 Bar & Lounge. Guests also get access to the facilities of its sister property, Hilton Garden Inn Kuala Lumpur Jalan Tuanku Abdul Rahman North, just a short stroll away.
Pitstops along the way
Get an early start to your adventure the next day. Federal Route 3 is one of the most scenic highways not just in Malaysia but in all of Asia, so you'll want time to explore. Before you hit the highway though, pay a visit to Batu Caves, just 20 minutes from central KL. This limestone cave complex houses Hindu temples filled with shrines and mystical dioramas, accessible via 272 rainbow-coloured steps. It's definitely worth taking a tour to witness some of the fascinating plants and animals that live in the caves.
Hidden in the foothills of Taman Melawati, about 30 minutes by car from downtown Kuala Lumpur, Miss Ellie Tea House is a quaint, English-style tea house that serves homemade scones, cakes and other tasty bakes. A cosy family-run business that does not serve pork, Miss Ellie also serves tea, coffee and hot chocolate, perfect for rainy days and afternoon escapes, and mains such as Shepherd's pie and lasagna, for when you need something more than a quick bite. Although Miss Ellie doesn't serve alcohol, guests can bring their own wine, subject to a corkage fee of RM30 per bottle.
If you have time for an overnight stop, drive another hour or so up into Genting Highlands. The hotels, shopping malls, theme parks and casinos that make up this sprawling hillside resort guarantee round-the-clock fun. If natural attractions are more your thing, take a hike up Gunung Nuang or pay a visit to Genting Strawberry Leisure Farm to pick (and eat) your own fruit.
From Mersing, the highway joins the coastline, making for some scenic seaside views out the window. At Pekan, which is the royal seat of the Pahang sultanate, you'll cross the Sultan Abu Bakar Bridge over the Pahang River before continuing on to Kuantan. Or, if you prefer to break up your drive, take a nightcap in Pekan. The Ancasa Royale Pekan, Pahang, a hotel located on the banks of the historic Pahang River, is within walking distance of several top heritage sites. The town of Pekan has become a magnet for history enthusiasts, with cultural sites like the Abu Bakar Royal Mosque paying homage to the state's colonial past. With its river-facing rooms, the hotel offers a luxurious base from which to soak up the town's rich heritage. It also boasts a large outdoor swimming pool and children's playground, as well as an all-day restaurant and the town's sole nightclub (in case you have any energy left over for dancing).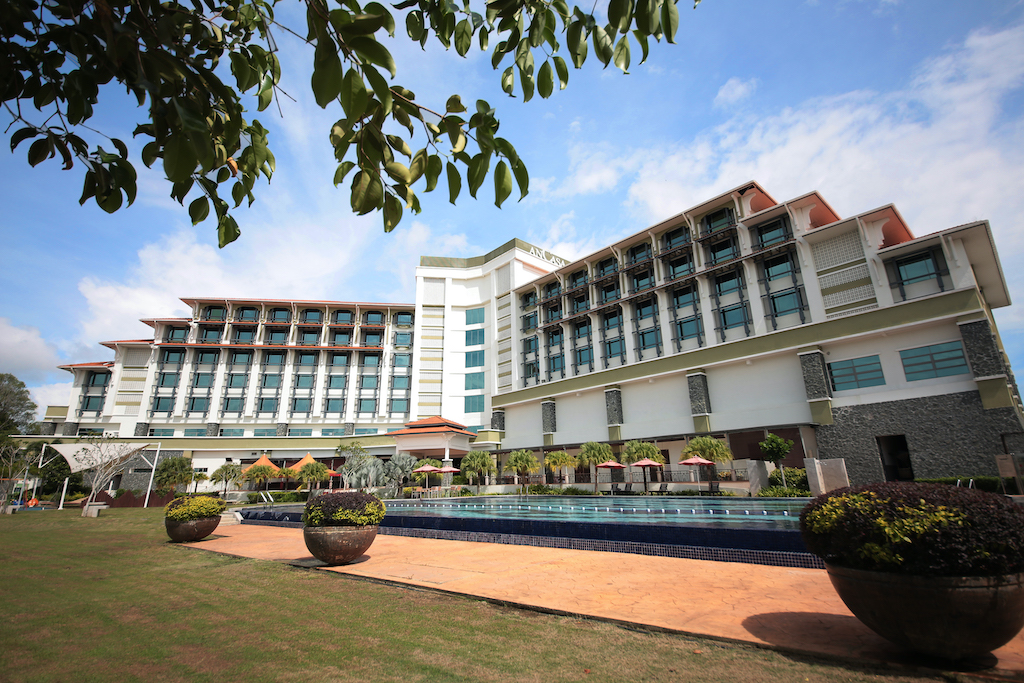 The final stretch
From there, it's an hour's drive to the resort town of Cherating. Enjoy some quiet time at the white sand beach of Pantai Cherating; this coconut palm-fringed strip is markedly less touristy than Malaysia's other beach locales. Although it might not be on the well-trodden tourist path, the sleepy resort town of Cherating has some good eats, from no-frills eateries to beachfront dive bars. Cherating Beach Bar boasts excellent views of the sea, while the open-air, beach-facing Intan Seafood Restaurant is your best bet for sumptuous grilled seafood.
Although Cherating is largely popular among backpacking surfers, there are beachside getaways offering that bit of luxe factor. The serene Holiday Villa Beach Resort & Spa offers a romantic stay by the beach with plenty of modern amenities and recreational facilities. Among the resort-style rooms is the Garden Villa, a spacious cabin that fits a family of three with warm, wooden furnishings and a patio with views of the garden or pool. Guests can also rent bicycles from the resort, sign up for a mangrove tour, go kayaking or try deep-sea fishing. Alternatively, kick back in the property's outdoor jacuzzi after a hearty meal at the on-site Beach Restaurant, which serves local and international dishes.
The next day, before your drive back home, schedule time to enjoy some of Cherating's other activities, like a visit to its very own turtle sanctuary, batik-making at the local Lidong Art boutique or even a mangrove river cruise. Expect plenty of sun, sand and sea here, so remember to pack in your SPF and other sun-protective must-haves, like the cruelty-free Iconic °5 hair mist and perfume.
With thanks to our partners Element Kuala Lumpur, Hilton Garden Inn Jalan Tuanku Abdul Rahman South, Miss Ellie Tea House, Ancasa Royale Pekan, Pahang and Holiday Villa Beach Resort & Spa