In our new 'Local Hidden Gems' series, we unlock Malaysia's best-kept secrets – this week, a spotlight on the impenetrable jungles of the Belum-Temenggor rainforest complex in Perak
Perak's cliffs, primeval jungle and rare wildlife are perfect for those who love an off-grid adventure. The state's northernmost tip is also home to Belum-Temenggor forest reserve, the world's oldest rainforest. Often eclipsed by its more touristy counterpart in Borneo, this ancient rainforest has thrived for over 130 million years. Endangered wildlife like the sun bear, Malayan tiger and tapir call it home, and travellers seeking rugged experiences will appreciate its nascent eco-tourism industry, wildlife and orang asli culture. 
Getting here is only possible by car – it's 400km from Kuala Lumpur to the jumping-off point on Banding Island, where you can take a boat. (To break up the five-hour road trip, make a pitstop in Ipoh, which promises its own cultural and culinary delights.)  
Here's everything you need to know about this jungle paradise before planning a trip: 
1. It's even older than the Amazon
Estimated to be over 130 million years old, the Belum-Temenggor rainforest dates to a time when dinosaurs still existed. In fact, it's widely regarded as the world's oldest rainforest, older than the Amazon or Congo. It's also one of Malaysia's last remaining virgin forests. 
2. It's about four times the size of Singapore
Sprawling over 290,000 hectares of land, the rainforest is over four times the size of Singapore. It's split into two sides: Royal Belum State Park, which borders Thailand to its north; and the lower Temenggor forest reserve, that's now mostly covered by Temenggor Lake. 
3. Royal Belum State Park was shortlisted as a UNESCO World Heritage Site  
Owing to its rich biodiversity, the Malaysian government officially designated the Royal Belum State Park as a protected area in 2007. (Various NGOs are actively working to ensure the remaining areas also achieve protected park status.)  
In 2019, this 117,500-hectare tropical wilderness was also shortlisted on the UNESCO World Heritage Site list. The only way to reach the park is via a boat ride from Banding Island, and you'll need a permit and a licensed guide to enter.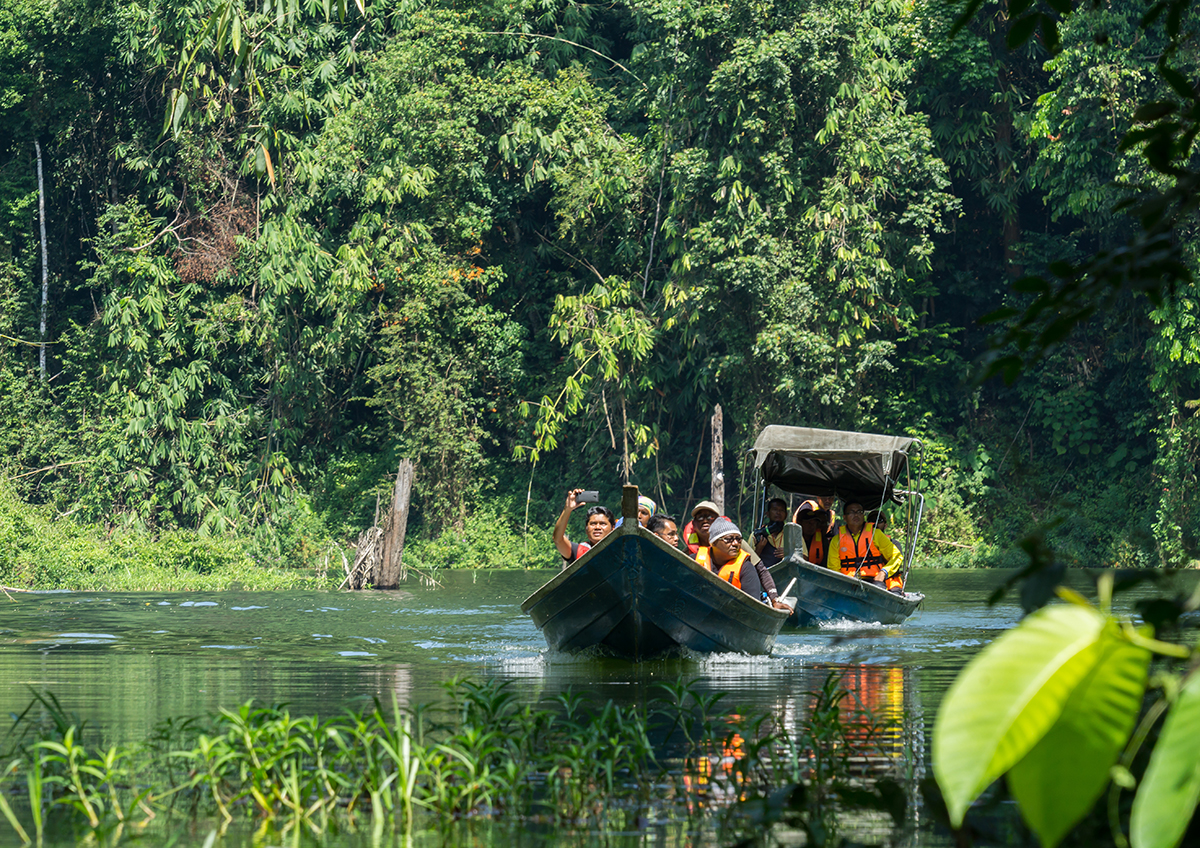 4. Critically endangered wildlife like the tapir and elephant roam the jungle 
The rainforest is one of the last refuges in Malaysia for critically endangered wildlife like the Malayan tiger, Asian elephant, Malayan tapir, rhinos and deer. Avid bird-watchers will also be delighted to find all 10 of Malaysia's hornbill species here.  
5. Lake Temenggor is a man-made lake 
It might not look it, but Lake Temenggor is in fact a man-made lake. River-damming in 1972 flooded the area and turned the surrounding hills into islets, one of which is Banding Island. This is where you'll find the Belum Rainforest Resort, a luxury eco-resort which also offers day trips to the forest park. 
6. The indigenous Jahai community call this rainforest home 
Respect and appreciate the rich culture and heritage of some 1,000 indigenous Jahai people who live in the rainforest. They live in thatched huts on the forest reserve and have been vocal about the negative impacts that recent conservation and tourism efforts have had on their lives. 
7. The rainforest's exclusive eco-resorts keep tourism to a minimum 
The opening of a luxury resort means tourism is picking up here – but a visit to the Belum-Temenggor rainforest doesn't come cheap. The Belum Rainforest Resort on Banding Island has luxurious, WiFi-equipped villas overlooking Lake Temenggor. Alternatively, the Belum Eco Resort makes for more wallet-friendly digs. Located on a separate island, its hand-built wooden chalets offer no air conditioning (or electricity during the day), so it's ideal for a remote and eco-friendly stay. Be prepared to fork out a substantial surcharge though if you are the only guest in the lodge.
Watch this space for our next 'Local Hidden Gems' series!