No other place is more beautiful to experience world music than Sarawak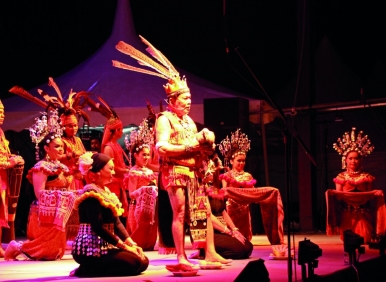 Sarawak will once again come alive with music performed by the best musicians in the world this August. Held at the historical Sarawak Cultural Village, which sits majestically below the stunning Mount Santubong, the 19th annual Rainforest World Music Festival is ready to enthral thousands of music fans throughout the three-day event.
The festival, held on 5-7 August, has been voted, for the fourth consecutive year, as one of the 25 best international festivals by World Music Magazine. This year, the event will include 18 international and eight local bands and performers from Malaysia, Latvia, Syria, Colombia, South Africa, Indonesia, Ethiopia, Canada, China, Ghana, Greece, Ireland, Norway and Australia, amongst others.
The cultural village covers seven hectares and is open all year round. With 150 people from multiple ethnic groups living here, it showcases the history of the tribal groups that reside in Sarawak. It's a living museum showing very different ways of cooking, fabric weaving, painting and hunting. During the festival, there are galleries, food markets and huge craft bazaars around the central lake area featuring the most beautiful cultural clothing, jewellery and knick-knacks to take home.
In the afternoons, workshops are held in three of the longhouses to bring the performers and visitors together in music and dance sessions. There are also workshops for children aged seven to 12.
Evenings will start with the crowds joining in a percussive drum circle. As the stage shows begin, Mathew Ngau, a wonderful master sape player, will launch the event with the traditional music and storytelling.
The shows are held on two large jungle-backed stages. Performances start at 7:30 pm and run well pass midnight. The huge Jungle Stage and the smaller Tree Stage alternate bands for around 30 minutes to an hour each. If you happen to be relaxing elsewhere around the cultural village, there are huge screens to sit by and relax whilst enjoying the local food and drinks.
Among the bands that will perform this year is Auli from Latvia, a bagpipe and drum music group founded in 2003 in Riga and Irish band Téada, who perform with the traditional Irish fiddle and accordion. Joining the line-up are Indonesian drum band Dol Arastra Bengkulu and the band Cimarrón from Colombia and Australian dance troupe, Naygayiw Gigi who are committed to the preservation of the Bamaga culture in Northern Queensland.
For the full list of performers, visit rwmf.net.