Nearly a quarter of the planet's people celebrate Eid, and celebrations are as diverse as the Muslims observing them
Eid al-Fitr, the three-day festival marking the end of the Muslim fasting month of Ramadan, is the most eagerly anticipated date on the Muslim calendar. It brings to a close a month of abstinence and pious observation, and begins a period of indulgence when Muslims eat special foods, give generously and adorn the nicest clothes. Praying is also important – in the form of a special Eid congregational morning prayer – as is spending time with the family and visiting relatives.
But with almost two billion Muslims residing in places as distinct as Sydney in Australia and Dar es Salaam in Tanzania, Eid celebrations vary across the Muslim world. We take a look at Muslims celebrating Eid al-Fitr in five very culturally different countries – Muslim and non-Muslim – revealing a beautiful tapestry of global Islamic festive diversity.
Tunisia
Eid al-Fitr preparations begin from around the 19th day of Ramadan in Tunisia. "That's when people start preparing sweets for Eid; some cook it at home and others use the local bakery for bigger batches," explains Badr Haddaji, whose family is from Kairouan, the holiest city in Tunisia.
The morning of Eid Seghir – young Eid – as Eid al-Fitr is known in Tunisia, begins at the cemetery. Families get up early to visit their deceased relatives, taking with them plenty of loose change for the poor who congregate near the cemetery, knowing a generous sadakah (charitable) handout is likely. This is followed by the obligatory Eid prayers. Fortunate Tunisians living near the coast can attend Eid prayers organised on the beach.
For young Tunisians, Eid is a day to hanker for as much money from relatives as possible and then spend it in the bustling Eid markets filled with toys for the occasion. As a national holiday, Eid allows Tunisians to spend the day dressed in their freshest new clothes and visiting family, when the only pastime is eating and drinking.
"All day we basically drink coffee and eat sweets. Because our stomachs are still adjusting from the fast, only in the evening we have a big meal," says Badr. The most famous Tunisian Eid sweets are gherayeba and bashkouti, baked cookies and biscuits.
China
With at least 10 of the nearly 60 ethnicities in China confessing the Islamic faith, Eid is also a part of the Chinese calendar, especially in Muslim-dominant regions like Xinjiang and Ningxia provinces, where Eid is a public holiday and even tolls on roads are suspended.
Muslims in these regions are of Turkic and Mongol origin, and the local Eid customs are strongly influenced by these ethnicities. The Turkic Uyghurs, for example, use the Turkish word bayram (holiday) to refer to Eid al-Fitr – Uraza Bayram.
Many mosques lay on Eid feasts of pilaf (rice cooked in lamb fat) after the morning Eid prayer. Uyghurs then fill the streets to the sound of bullhorns and dutars (lute-like instruments), dancing to celebrate the end of a long, hard month of abstinence. This is one of the few Muslim cultures around the world where music has traditionally played a key role in Eid festivities.
Everybody then heads off to visit family, starting with their own most elderly relatives. The rest of the day is spent eating special local Eid food, including the delicious lamb kewap (spiced kebab) and sangze (fried, twisted, sweetened dough noodles) – for which every family has its own traditional recipe.
Bosnia and Herzegovina
It is the sound of a cannon, harking back to the Ottoman era, that signals the end of Ramadan in Sarajevo, the capital of Bosnia and Herzegovina, and announces Ramazanski Bajram – like the Chinese Uyghurs, Bosnians also use the Turkish word for 'holiday'. Hardly a surprise, given Bosnia was ruled by Ottoman Turks for over four centuries.
"Preparation for Ramadan begins from the 15th day. In Bosnia, we say if you haven't started preparing for Bajram by this day, you will not be ready!" explains Elmedin Music, a Theology graduate from The Faculty of Islamic Studies Sarajevo. Houses are cleaned, new clothes are bought and food is prepared. The Eid staples of borek (stuffed spiral pastry) and baklava (sweet layered pastry with nuts) are also Ottoman in origin.
At least two days of Eid al-Fitr are national holidays in Bosnia with the first day beginning early, straight after fajr (sunrise) prayer. Nasheeds, kutbahs and recitals can be heard across Bosnian towns and cities, helping to fill the time until the Eid prayer is performed, when Bosnians will arrive dressed in new clothes; some men revive the Ottoman-era fez hat and patterned waistcoat for the occasion. Afterwards, coffee shops are filled as friends greet each other with 'bajram barecola' and catch up over thick Bosnian coffee.
Many Bosnians begin the family time by first visiting the graves of deceased relatives and then congregating for lunch at the family's eldest matriarch's home. This is when the children begin to vie for their Eid cash gifts. The rest of the day is spent visiting wider family, and in the evenings, Bosnian youths gather with friends in town centres, perhaps to attend one of the Eid nasheed concerts.
The second day of Eid in Bosnia is dedicated to the martyrs of the 1992-1995 war. Imams across the country lead visits to the many memorial sites and cemeteries, where Bosnians are able to honour them.
Malaysia
In Malaysia, Hari Raya Aidilfitri lasts an entire month, with the key customs taking place in the first few days. On the first day, Eid prayers are performed across the country and Malaysians dress in traditional Eid outfits known as baju raya, often with entire families matching these in colour. The  outfits have five buttons to represent the five pillars of Islam. In some states, Eid outfits have only one button to represent the oneness of God.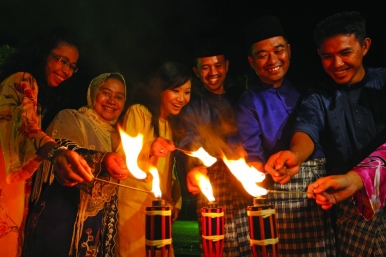 The Eid prayer is followed by a deeply moving Malaysian tradition of asking one's parents and family members for forgiveness. Malaysians then visit the cemeteries to read Quranic chapters over the graves of their dead relatives. "I would say this is the most heart-moving part of Eid," says Bobby Ramli, a Malaysian from the southern state of Johor, who admits what he loves most about Eid though, comes afterwards. "Fireworks and eating non-stop when going to people's houses are my favourite things on Eid!"
Visiting family and friends to bid them 'Selamat Hari Raya' in the tradition of open houses, a concept unique to Malaysia, locals like Bobby eat special foods such as ketupat (rice parcels) with beef rendang and kuih raya (cakes and cookies).
United Kingdom
"I love the great outdoor Eid festivals that get laid on by local authorities. Most big cities with a large Muslim community will have an 'Eid in the Park', and this is great fun to attend with all the family," Kazi Hussain, an east Londoner sums up the growing tradition in Britain of large 'public' Eid festivals aimed at bringing together the country's diverse Muslim community.
These are often preceded by large open-air prayers in parks across the country, from London to Bradford. There, British Muslims arrive in their finest Eid outfits, often signifying their ethnic roots, and greet each other with the phrase 'Eid Mubarak' (blessed celebration).
With British Muslims hailing from all over the world, and often far from their extended families, the civic Eid events mean everyone has somewhere special to go on the day. These festivals brim with food from around the world and gift stalls. There's usually a central stage where entertainment includes cultural dancing, music and even comedy. Children are kept busy with face painting, henna art and mini fairgrounds.
Muslims who have resided longer in Britain may visit graves of dead relatives, before going for lunch at their parents' home, armed with cash or gifts for younger children – the latter, a largely new phenomenon inspired by local Western traditions, as is the sending of Eid cards.
In mega-cities like London where diverse ethnic cultures thrive, Eid food varies depending on the neighbourhood. In London's east end for example, with its large Bangladeshi community, savoury specialities like the samosa (stuffed pastry triangles) and sweets like the Moghul-inspired gulab jamun (dairy-based syrup balls) are firm Eid favourites.