A rich tapestry of artistic and cultural elements, kuda kepang is much more than its mystic reputation.
Garbed in red and black, the horsemen gathered in the courtyard stand proud astride their wooden hobbyhorses, ready for action.
Photos SooPhye
As the scent of incense fills the night air, a solemn-faced gentleman walks to the centre of the ring and strikes the ground with a whip before tracing a border with it, and then individually blesses each horseman. Now that the performance arena is officially consecrated, the horsemen begin to sway to the mellow, hypnotic rhythm of the gamelan musicians. As the music increases in tempo, punctuated by the occasional whip-cracking, the horses' movements grow more lifelike at every step.
The 20-odd residents from Sabak Bernam who call themselves Kumpulan Kesenian Kuda Kepang (KKKK) are dedicated practitioners of kuda kepang, a Java-originated dance art form that mimics a horse's gallop, as its name suggests.
Believed to be popularised by Sunan Kalijaga, a famed Islamic cleric who used arts and culture as a medium to convey his teachings, kuda kepang found its way into Malay popular culture in the early 20th century when Javanese immigrants brought the dance to southern Johor state.
Back in its heyday, kuda kepang was a staple feature at festive events. It typically ran on for hours: the highlight was a string of extreme stunts in which the performers would thrill the audience by eating glass shards, tearing into coconuts with their bare teeth, or enduring whip lashes – all without showing any outward sign of pain.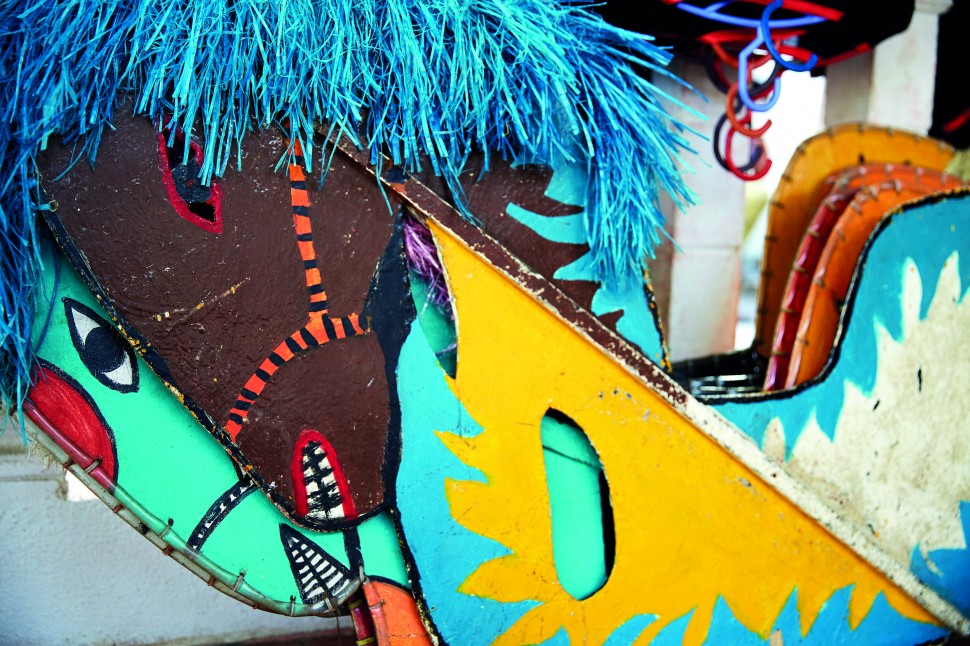 Fifty-eight-year-old Mohd Roslie, the founder-leader of the group, says kuda kepang temporarily borrows energy or life-force from kayangan (the unseen realm) to execute these physical feats. "That's why they go into a trance and show a heightened awareness. It's not very different from how kavadi bearers go into an elevated state during Thaipusam (the Tamil festival)."
While this aspect of kuda kepang understandably attracts a lot of attention, Roslie stresses the dance is much more than its hyped-up mystical elements. Watching his first live performance as a young teenager, when a performance troupe from Johor toured Selangor, he was struck by the kuda kepang's interweaving of various cultural elements: "Within a single genre, you had dance, comedy, and a great storyline." Elements of old stories that are incorporated into the dance incorporate characters such as tigers, queens and royal guards and promote noble values such as the valour of warriors, the forces of good triumphing over evil, and respect to royalty.
Then there's the making of the hobbyhorse itself, a fading art. Traditionally, the dancers made their own hobbyhorses by weaving cowhide or pleating bamboo, with each horse taking up to five days to complete. But these raw materials are hard to get these days, Roslie says, so plywood is more commonly used. "The craft of making the kuda kepang props teaches us good virtues such as time and patience," he says.
In the early 1980s, Roslie started reaching out to other like-minded villagers in Sabak Bernam to form a performance troupe. On ordinary days, KKKK primarily operates out of Homestay Hj Dorani in the district of Sabak Bernam in the state of Selangor. It also frequently collaborates with local organisations that promote local arts and heritage, and has performed at cultural events all over Malaysia. While the group functions as a pool of active performers rather than a full-fledged troupe, its appearances are bringing renewed attention to the art, and more importantly, attracting new blood. Its youngest member is 11 years old.
Over the past few years, kuda kepang has been muted from its original form with some spiritual elements taken out in the name of taboo.
"But that's not all there is to it," Roslie points out. "By passing this unique tradition to all those who are interested, I hope to show the world just how beautiful and artistic kuda kepang is."
For show appearances, contact:
Mohd Roslie bin Alias
Kumpulan Kesenian Kuda Kepang, Quarters JPS, Parit 15, Sungai Merbau, Sungai Panjang, 45300 Sungai Besar, Selangor
Phone: +6013 271 7444
The writer was a guest of Rentak Selangor, an annual programme of cultural excursions to promote local heritage performance art forms organised by Gaya Travel Magazine.