Rides based on Star Wars, Marvel, Pixar and more among the experiences coming for guests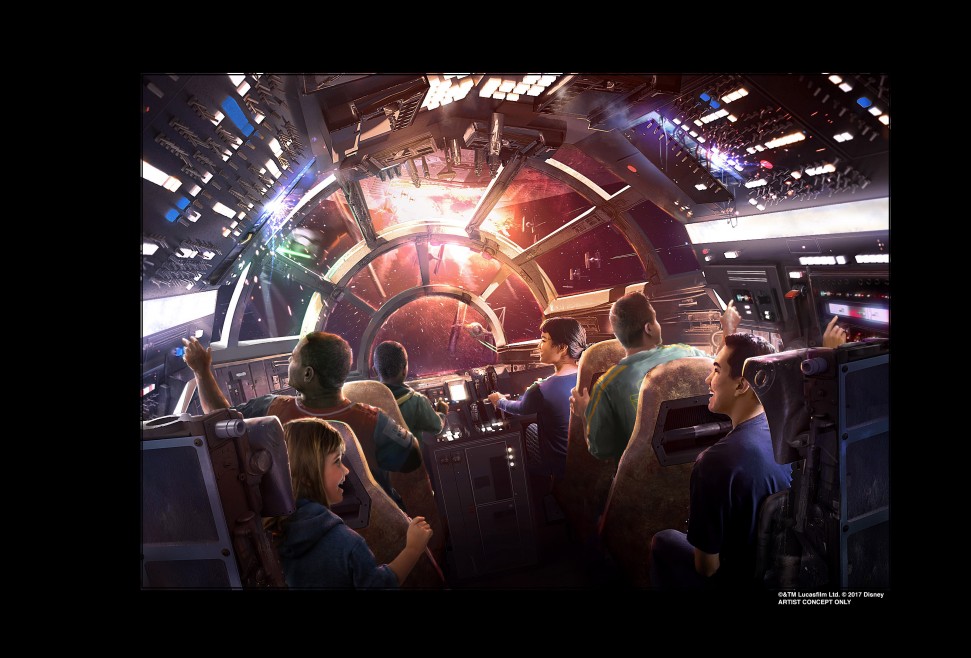 At the recent D23 Expo 2017, Walt Disney Parks and Resorts announced an extraordinary line-up of brand new attractions and experiences coming to its parks and resorts around the world as it continues to revolutionize the guest experience, starting from before guests even arrive for a Disney vacation to the many memories that last a lifetime.
Here are a few notables that got us giddy with excitement
Star Wars: Galaxy's Edge
Star Wars stories will come to life in Star Wars: Galaxy's Edge, the newly announced name for the Star Wars-themed lands. Guests will get to be in the middle of a battle between the First Order and the Resistance and hangout at the hangar bay on a Star Destroyer. Guests will also have the chance to fly the Millennium Falcon, where each guest is critical to the mission's success. Star Wars: Galaxy's Edge will open in 2019, with the first land debuting at Disneyland Park in Anaheim, then at Disney's Hollywood Studios in Orlando.
Timeless Transformation of Epcot Revealed
Looking ahead to the 50th Anniversary of Walt Disney World, there are grand plans to complete the transformation that started with the debut of New Fantasyland in 2014. Patterned after the number one family attraction at Disneyland Paris, Ratatouille will be added in an all-new space in the France pavilion at World Showcase. Epcot will also see the addition of a brand new E-ticket attraction based on the rockin' and action-packed world of Guardians of the Galaxy, the next step in how guests can encounter these characters at Walt Disney World Resort. In Future World, a new Green Mission at Mission: SPACE will take guests on a stunning tour around the Earth, and an updated Orange Mission will make the trip to Mars even more spectacular.
Disney's Hollywood Studios and Magic Kingdom
Disney remains at the cutting edge of deeply immersive, creative storytelling that draws guests into new worlds, and it is a legacy that lives on in every new Disney Parks experience. The first-ever Mickey-themed ride-through attraction, Mickey and Minnie's Runaway Railway, will come to Disney's Hollywood Studios. The most popular attraction at Shanghai Disneyland is coming to Walt Disney World Resort. A thrilling, Tron-themed attraction will be added in a new area near Space Mountain at Magic Kingdom. Additionally, a new live entertainment theater coming to Main Street, U.S.A., based on the iconic Willis Theater in 1920s Kansas City, will bring world-class entertainment to the world's most popular park.
Pixar Fun at the Happiest Place on Earth
In addition to announcing the summer 2018 opening of Toy Story Land at Disney's Hollywood Studios, there will also be a Pixar Pier at Disney California Adventure. The pier will take on a brand new look as more favorite Pixar characters and stories come to life, from The Incredibles, to Inside Out to even more Toy Story. As part of the celebration, the Pixar Play Parade will return to Disneyland Resort — this time at Disneyland Park — and the fan favorite Paint the Night Parade will move to Disney California Adventure, one of Disney's longest parade routes.